Event Details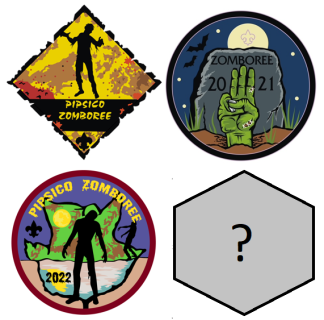 CONTAMINATION BREACH!!!
Unsanctioned human experiments have created Zombies. They have escaped from a secret Laboratory and now have infiltrated into the Pipsico area. We need you to find the keys to the now thought to be abandoned labs' safe in order to unlock and recover the formula for the antidote. We need your bravery, determination and scout skills to save Pipsico. You are our only hope!
There will be a cracker-barrel Friday and Saturday evening. No other food is provided. Participants should plan and bring their own meals.
Event patches will be provided. The Zomboree is structured as a competition, "camporee" style event that will test your teamwork and scouting skills in order to survive a Zombie outbreak. Teams may compete for 1st, 2nd, and 3rd place, or simply participate for fun.
This event is open to Scouts BSA, Venturers, Sea Scouts, and Explorers and is entirely co-ed. Teams will be assigned Friday night. Teams may be composed of Scouts from the same unit or entirely different units. Participants may be considered youth, through age 20; however registrants aged 18-20 may register as adults if they are supporting youth in a capacity of a "BSA Adult Member." Attendance is limited to the first 340-particpants.
When & Where
Pipsico- Camp Lions (Base Camp)
Friday 12-01-2023 5:00 PM ET to
Sunday 12-03-2023 10:30 AM ET
Past