Order of the Arrow Ordeal
Event Details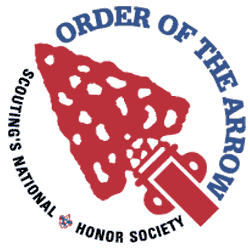 Order of the Arrow Ordeal
Congratulations! You have been selected as a candidate for the Brotherhood of Cheerful Service, and your journey in the Order of the Arrow has just begun. To take your Ordeal and become a member of our Order, you must complete this registration process.
You are advised to read this entire document before moving to the online registration.
Specific check-in instructions for Order of the Arrow Ordeals are outlined in "OA Ordeal Check-In Procedure" under Attachments.
THE FORM
You will not be able to complete your registration until all required fields are completed. Double check and triple check all of your entries. You are responsible for the information you supply. We use the email address, your home address, and the phone numbers you supply as a method of communicating with you. Be sure they are correct.
COST
The cost of your ordeal is $50.00. This covers the cost of your dues, your sash, your food for the weekend, and your lodge flap.
The cost is $25 for existing members to attend as staff. A staff member who is eligible to complete the Brotherhood induction may add that to their registration for an additional $20.
ThunderOwl: Separate registration instructions will be sent by e-mail.
Please direct any registration questions to adv.admin@miki.org.
MEDICAL INFO
It is very important that you have with you any medication you need on a regular basis. The Annual Medical Health Form (parts A & B) is required for an ordeal weekend and must include a parent/guardian signature for youth.
QUESTIONS?
Please go to https://www.miki.org/about-us/candidate-information/ for more information about the OA Ordeal.
For additional information, please contact inductions@miki.org.
When & Where
OA Ordeal: TRJClements Scout Ranch/Trevor Rees-Jones Scout Camp/Camp Meisenbach
Friday 12-01-2023 7:00 PM CT to
Sunday 12-03-2023 12:00 PM CT
Past