2023 Wilderness First Aid Course
Event Details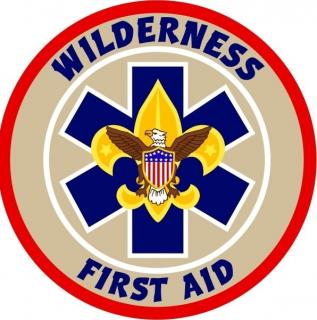 Wilderness First Aid
Camp Wisdom
December 8 - 10, 2023
Registration closes on Sunday, December 3 at 11:00 p.m.
- NO WALK-INS -

The Wilderness First Aid (WFA) Training is a 16-hour, hands-on course to give adult leaders the experience needed to handle illness and injury when medical care is more than an hour away. When paired with CPR/AED certifications, leaders are well prepared to deal with emergencies and routine medical issues that may occur on an outdoor adventure.
All four of the BSA high-adventure bases (HAB) require at least one person per trek (two per trek at Philmont Scout Ranch) to be current in WFA. Of course, having more participants trained in WFA skills is highly recommended for any high adventure or backcountry experience.
Cost
Adult Participant (aged 18 years and older)
- Registration - $140/person.
Youth Participant (aged 14 - 18 years only)
- Registration - $140/person.
Staff
- Regular Registation: $25/person
Registration
- Closes: Sunday, December 3 at 11:00 p.m. No new registrations, late additions, or changes may be made after this date. No walk-ins will be accommodated.
- Cancellation Requests: See the Circle Ten Council Cancellation & Refund Policy under Attachments.
Event Details
- Check-in: Saturday, December 9 at 7:15 a.m.
- Class Starts: Saturday, December 9 at 8:00 a.m.
- Check-out: Sunday, December 10 at 3:00 p.m.
- Accommodations: Participants may camp in Eisenhower campsite. Please bring your own tent and camping gear.
- Meals Included: Lunch and dinner on Saturday; grab-n-go breakfast on Sunday
Documents Required at Check-in
- Annual Medical Health Form AB
- Certificate showing CPR/AED Certification
CPR/AED Certification
If you do not have a current certification you can complete a 65 minute online portion and then attend Friday night, December 8 to complete the CPR/AED certification. A link through the Red Cross will be emailed to you.
- Check-in Time: Friday, December 8 at 6:30 p.m.
- Class Time: Friday, December 8 at 7:00 p.m.
- Cost: $35 per participant payable at the event.
Event Contacts
- Rick Diamond, Instructor: rickdiamond1000@icloud.com
- Mike Prachar, Staff Advisor: michael.prachar@scouting.org
- Paula Bramble, Registration: paula.bramble@scouting.org
When & Where
2023 FallCamp Wisdom/Billy Sowell Scout Camp/Shirley Sowell Cub World
Friday 12-08-2023 7:00 PM CT to
Sunday 12-10-2023 3:00 PM CT
Past