Event Details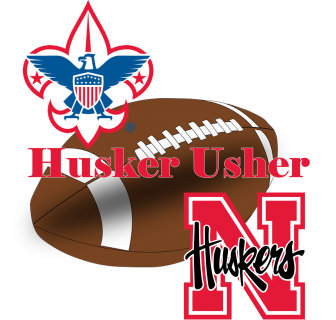 Register now for the Scout Ushering Service!!!
Football season will be here soon! First home game for 2023 is Saturday, September 16th @ 6pm.
If you are interested in ushering at the Home football games, all you have to do is get signed up on-line.
You need to be at least 12 years old to usher, but 11 year old Scouts can sign up to be Ushers, with a registered parent/guardian accompaning them as ushers.
Every Usher does have to wear a Complete Boy Scout Uniform (shirt, pants/shorts, belt, and socks) in order to be admitted to the stadium, and must be currently registered with the Boy Scouts of America.
Sign up once and there is an option to mark which games you will not be able to attend, or mark that you can help with all games! If you can only make it to one game, just click on that one when signing up!
When & Where
Nebraska VS. Northern IllinoisUNL Memorial Stadium
Saturday 09-16-2023
3:00 PM CT to 8:00 PM CT
Past
---
Nebraska VS. Louisiana TechUNL Memorial Stadium
Saturday 09-23-2023
2:30 PM CT to 5:30 PM CT
Past
---
Nebraska VS. MichiganUNL Memorial Stadium
Saturday 09-30-2023
2:30 PM CT to 5:30 PM CT
Past
---
Nebraska VS. Northwestern (2:30 Kickoff)UNL Memorial Stadium
Saturday 10-21-2023
12:30 PM CT to 4:30 PM CT
Past
---
Nebraska VS. Purdue (2:30pm Kickoff)UNL Memorial Stadium
Saturday 10-28-2023
12:30 PM CT to 5:00 PM CT
Past
---
Nebraska VS. Maryland (11AM Kickoff)UNL Memorial Stadium
Saturday 11-11-2023
9:00 AM CT to 2:30 PM CT
Past
---
Nebraska VS. Iowa (11AM Kickoff)UNL Memorial Stadium
Friday 11-24-2023
9:00 AM CT to 2:00 PM CT
Past